Caged Predicaments | Abigail Dupree | Master James
March 15, 2017
319 Images • 111:08 Min Video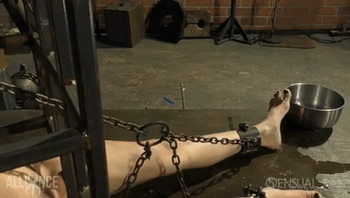 Extreme Productions and Sensual Pain Studios Present "Caged Predicaments" - An inspired parody for candid BDSM film of Georges Pichard - Princess Melanie House of Correction.

To bring to life, one of the most inspirational works of art to many of those with that sadistic twinge, is such a pleasure to both Master James and slave abigail in their own vastly differing ways. Georges Pichard has been a guilt free pleasure for their eyes and senses and brings a normalcy to their most devious of activities. But what started out as a joyful tribute to Pichard very quickly turned into a real nightmare for slave abigail. Thrust into a situation of tightly closed quarters, welded together by the hands of her loving Master, she finds that even the slightest threat to her well being is magnified to an extent that got the best of her in the end. Oh... but that wasn't the end... no, that was only the beginning of this nightmarish dream come true. You must watch as words do no justice to witnessing Master James teetering dangerously close to pushing His slave off the cliffs of her sanity.

Master James at Sensualpain.com real Sadomasochism, its main focus dungeon device bondage style being extended to European and Germanic societies BDSM dungeon type scene interested countries are Austria, Canada, Denmark, France, Germany, Japan, Netherlands, Norway, Sweden and the United States.